Pet Adoption: How I Met My Best Friend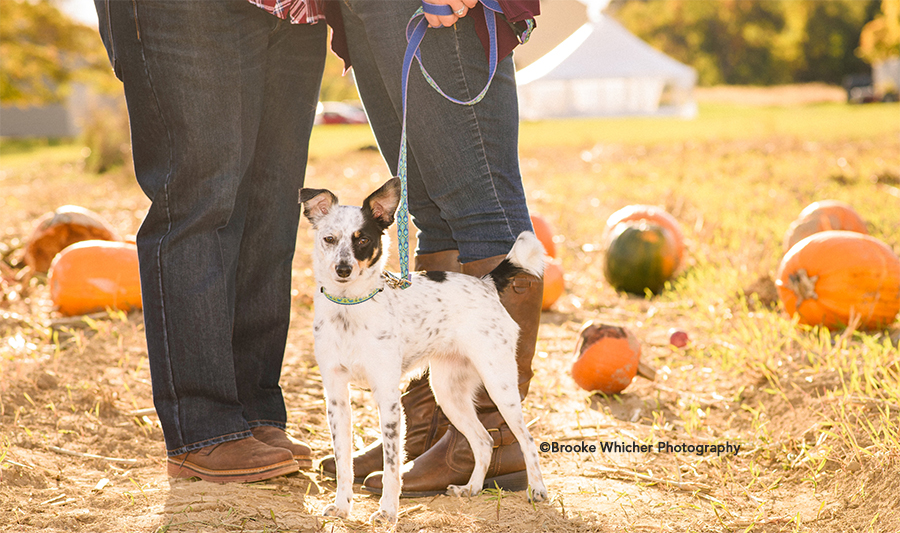 We're happy to introduce Jessica Denoncourt, Regulatory Affairs Specialist at WellPet who's here to share her personal story about adopting her best friend, Maggie the dog. (above photo via Brooke Whicher)
Q. Why did you decide to adopt a dog?
I grew up always wanting a dog of my own. My mom always said no because she was afraid that we (the kids) wouldn't own up to the responsibility of having a dog. I had moved out and knew with that, a dog was in my future. My partner and I had been together for a few months and our schedules worked out perfectly (one during the day, one during the evening) to welcome a dog into our little family.
Q. What's Maggie's story and why did you choose her?
I was watching the Puppy Bowl 2014, as one does, and saw the little bulletin that all the puppies feature in the Puppy Bowl are available for adoption. I decided to look into their stories and see who had been adopted and what the happy-endings were. That led me to Petfinder. I branched off from looking at stories about puppies across the country to looking up a local rescue in my area – Great Dog Rescue New England. I saw Maggie's little face and just knew she was my dog. At the time, her name was Pipsqueak (rude!). There was something about her sweet face that I connected with. My partner had fallen asleep on the couch, so I quietly filled out the application. I woke her up and said to her, "I either need you to tell me 'yes, we can do this' or I need you to talk me out of it." Shortly after that conversation, I hit submit and we were off on our adoption process.
Q. What was the most challenging thing about adopting Maggie?
Great Dog Rescue New England was very easy to work with. The only challenge that I faced was not getting my hopes up. Maggie was one of six little girl puppies. The initial email I received after submitting my application stated that they received several applications, would read through every one to find the 'best match' for each pup, and at any time, they could be adopted and unavailable. I told my partner to not buy anything, not to pick out any names, and not to talk about having a dog until we were sure it was happening. It's very nerve-wracking, but it was well worth the wait. Everyone I dealt with within Great Dog was friendly, patient and answered all of my many, many questions.
Q. What advice would you give someone interested in adopting a pet?
Be patient. Be patient with your new dog or puppy. Every dog is different and has their own personality. Puppies are adopted with little to no manners. Adolescent and older dogs sometimes carry baggage. With proper training and a good heart, it's one of the most rewarding things. Be patient with yourself. Everything is a learning curve. Be patient working with your rescue. Most of them are volunteer based and have other jobs on top of helping find these dogs and puppies new homes. After adopting Maggie, I started volunteering with Great Dog Rescue New England. I wanted to give back in some way to the organization that gave me my best friend. It's filled with great people who are there solely to help rescue dogs and puppies.
Q. What's Maggie's favorite Wellness food or treat?
Maggie LOVES WellBites. Any flavor. Any day. She is on it. We especially like WellBites because they're soft and we can cut them up into little pieces. She's just a small gal, so she gets little pieces.
Q. What do you value most about your relationship with Maggie?
Maggie is my best friend. She is always there, no matter the day I've had. Doesn't matter if it's early in the morning or late at night. She's always there with her tail wagging excited to see me. No one is as excited to see me as she is!
Q. What's her goofiest or quirkiest trait?
Maggie is a little dog with a big personality. My favorite trait of hers is that she LOVES scratches. You will be in the middle of doing something and she will march on top of you to demand scratches. You can be reading a book or typing on the computer and she will come over to paw at your hand until you relent and scratch her up. And if you aren't scratching her just right and where she wants to be scratched, she will let you know and paw your hand to exactly the right spot. She's our silly little Maggie.