How to Ski and Snowboard With Your Adventure Dog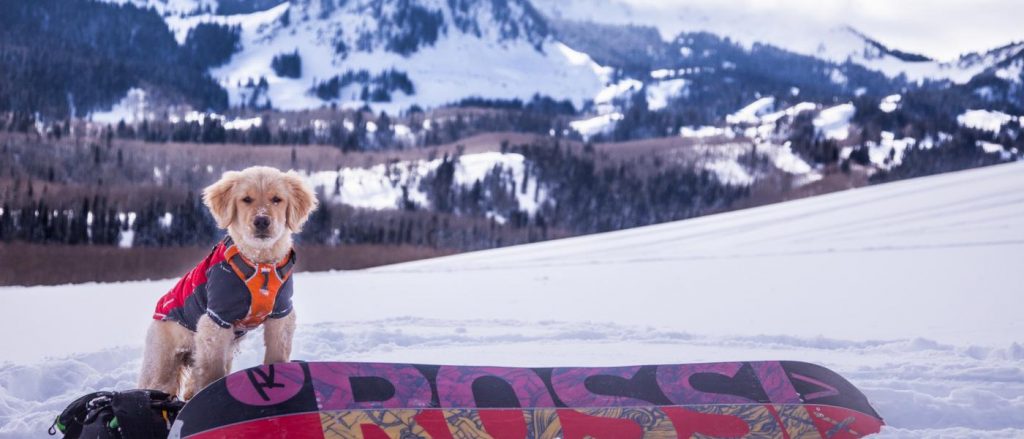 One of the best feelings in the world is being able to include your pup in the activities you're passionate about. For me, that's bringing my dog Kicker snowboarding through fresh powder. Snowboarding has been a huge part of my life since I was a kid and now it's how I make a living. Kicker has been charging through the snow with me basically since the second I brought him home as a puppy.
If you want to see pure happiness just watch one of my edits of Kicker and I shredding through freshly fallen snow in the backcountry. That being said, it's important to properly prepare for your pup's safety before heading out in the backcountry with them. 
Safety First
The number one priority is your dog's well being. That means, that they are happy, warm, hydrated, and not in dangerous terrain. If you aren't in control when skiing or snowboarding and don't have experience in the backcountry with avalanche terrain it's not a good idea to add your pup to that equation. 
•    Make sure you're on terrain in your ability level.Start simple on a smaller slope going slow, especially if you're with a puppy. Puppies shouldn't overexert themselves so, unless you must, only go for a very short day or be prepared to carry your dog (if it's well within your ability level). Kicker personally loved to be zipped into my jacket as a puppy when we were out for long periods, but l always operated well within my ability level.
•    Avoid avalanche terrain (35+ degrees) unless you are familiar with the best practices and the current snow conditions. Also if you're in avalanche terrain make sure you have the right equipment (beacon, shovel, etc.) and don't go alone. 
•    Most importantly, make sure you don't hit your dog with your edges. Be sure you have control over your equipment at all times because clipping them could result in a life-altering injury and even possibly death. Train your dog to avoid getting too close or running in front of you. 
•    Should an accident happen, be sure you're in an area you can easily and efficiently carry out your dog and get emergency medical attention. It's also helpful to carry a small first aid kit with you. 
Ideal Conditions
Depending on the breed of dog and their tolerance to cold, their fur should protect them and keep them warm in the snow. Regardless, you don't want to go out on freezing cold days. Snow conditions are important as well. You want a hard base and want to avoid taking your pup when there's a thick, breakable crust on the snow. They could break through while running and seriously injure their legs. 
•    Make sure there is a packed base layer of snow.
•    Ideally there should be 4-12 inches of fresh snow on top of the base depending on the size of your dog. 
•    If it's too warm outside the snow tends to clump up in Kicker's fur which can be uncomfortable for dogs. To prevent this from happening I spray a little cooking spray between his toe pads and on his under belly. This helps the snow slide off. They also have paw balms you can purchase at your local pet store.
•    If it's going to be chilly or your dog has short hair bring a jacket for the dog or something they can lay on and get off the snow to warm up for a bit. 
•    Bring extra snacks for your pup. When it's cold we burn more calories and it's the same for dogs. Kicker loves the CORE 100% Salmon treats and Bowl Boosters! I love them because they're lightweight and not messy in my pack.
•    Bring water for your pup to drink. Eating snow alone doesn't hydrate them enough. 
Have Fun
The whole goal is to spend time with your pup outdoors having fun. I typically use a split board with skins so I can tour up and then cruise down with Kicker in tow. If it's a shorter run we'll make multiple trips up and down, or depending where you are and how many people you're with, you could do a shuttle with cars. If you can't ski or snowboard, sledding with your dog is always a fun option as well. However you decide to get outside and enjoy the snow this winter just make sure to stay safe and have a blast!
Follow more of our adeventures on Instagram! @andrew__muse & @kickerdogmuse