How to Make an Outdoor Cat House for Winter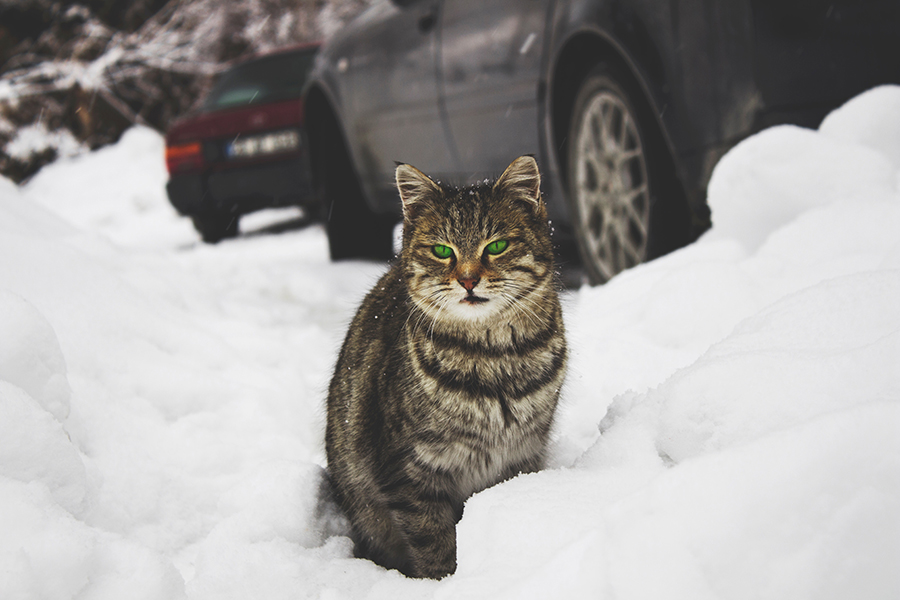 As we approach the winter season, the days will get shorter and the temperatures will get colder. Cats might be resourceful, but they still need shelter when the temperatures drop. When the temperatures get really cold, cats can suffer from frostbite or hypothermia. Their fur coats sometimes simply aren't enough to keep them warm.
Outdoor Shelters for Community or Stray Cats
Building an outdoor cat house for kitties can keep your feline friends safe and warm during the coldest part of the year. You might want to build an outdoor cat house for your indoor/outdoor cat when she chooses to leave your home.
What about the stray and feral cats that hang out around your house? It's important for cat parents to take care of the animals in their community. While your cat can stay warm and snug inside your home, community cats may not have a place to escape the harsh cold of the winter. Show the stray cats in your community some love this year by providing them with some winter cat houses to keep them warm and comfy during the winter months. Thinking of building a shelter?
Consider The 6 Tips
1. Cats need to feel secure, so make sure you place the feral cat house in a safe area away from other animals and car and foot traffic. 
 2. Also put the outdoor cat winter shelter in a place away from the wind – this will help keep your community cats warm and snug as the temperatures drop. 
3. While you can purchase outside cat houses for winter, making your own can be very inexpensive! Many tutorials are available online that use common household items, or even items that you might throw away. Do you have an old ice chest or large plastic bin? Those can be turned into a feral cat winter shelter by cutting an entry/exit on a side wall. Fill it with some straw so kitties can warm it with their body heat. Just make sure that whatever material you use for the outside of your winter cat shelter is insulated and waterproof. For inside insulation, choose material such as straw, which repels moisture. Blankets and hay soak up moisture and are susceptible to mold. 
Watch these DIY video

4.  Make sure you position your winter cat house off the ground. Adding support under the outdoor cat winter shelter helps keep felines safe from rain or snow. 
5. You should also make sure that the outdoor cat house is the perfect size for your community kitties. The shelter should be large – but not too big. The entrance to the warm cat house also shouldn't be very big. You don't want unwanted guests such as dogs or raccoons infiltrating the feral cat winter shelter and scaring off all the cats!
6. If you live in an especially cold area, you may want to make a heated cat house for winter for the stray cats in your community. You can purchase microwavable heat pads that stay warm for a couple of hours. If you have a plug-in nearby, buy some heat pads that are activated by weight, so cats can get some warmth whenever they decide to lounge in the winter cat house.
Check On Your Shelter Regularly
If you decide to make some outdoor cat houses for winter this year for your feline friends, make sure to keep the kitties in your community safe and warm during the colder months.
Check up on the house to make sure that the cats are staying dry. You can invite stray cats to the heated cat house with catnip or treats. If you choose to provide food in your cat house, you can purchase heated outdoor bowls or bowls activated by solar power. You might be the only chance for the stray cats in your community to have a comfortable place to relax from the cold.

Make sure your kitty knows she is appreciated by providing her with the best – and yummiest – food possible. Show some extra love to your cat by giving them some wholesome goodies from Wellness Pet Food. Made with natural ingredients and crafted with your pet's well being in mind, our treats are the perfect way to show your feline that they have a special place in your heart.