From an Idea to Your Pantry: How Wellness Creates New Products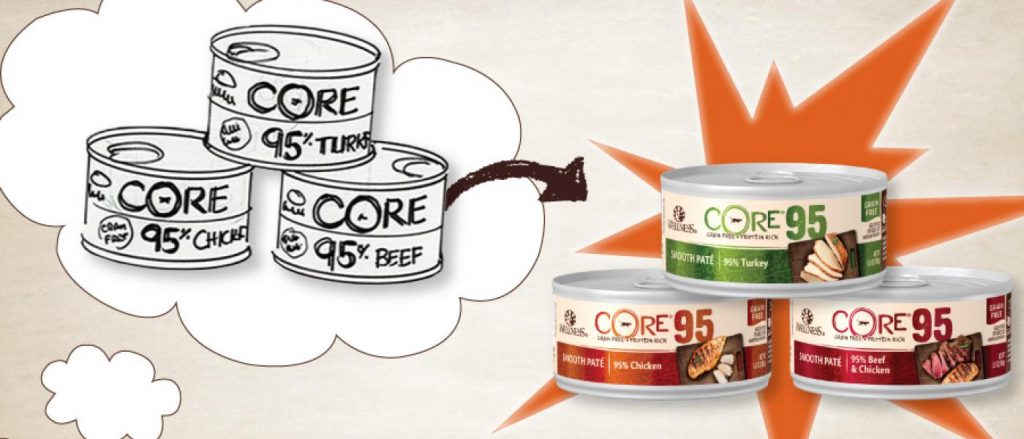 Wellness is known for having over 100 years of experience creating the best food for the pets that depend on us. While we've perfected our nutritional approach to natural foods with superior ingredients and unwavering attention to quality, we also have a full-time Innovation team dedicated to bringing Wellness fans the latest and greatest food and snack options for their pets.
Get ready for an inside look at how our Innovation Team takes a new product from ideation all the way to the final, delicious product you see on shelf!
How We Create New Products:
Step 1: Inspiration
Inspiration comes from many places. We're constantly thinking of new recipes, forms, flavors and varieties to offer our furry friends.
What inspires us?
You! We have a dedicated Consumer Affairs team who not only answers questions about our existing products, but receives your requests and suggestions for new products you'd love to see from us. 
Will you have a CORE RawRev puppy food? I really want to feed this but I can't yet because my dog is only 10 weeks old. -Ashlie B.
Our own pets. Many of us are proud pawrents ourselves and we're always looking to keep our pets happy, healthy and satisfied!
Our own diets. We practice healthy living ourselves and make sure we're keeping up with any of the latest human food trends that may be able to be applied as a beneficial diet for dogs or cats.
Step 2: Ideation
From inspiration, we then move to ideation. What does the food ultimately look like? What food form should we deliver it in? What ingredients will best fit the recipe? What flavors should we offer?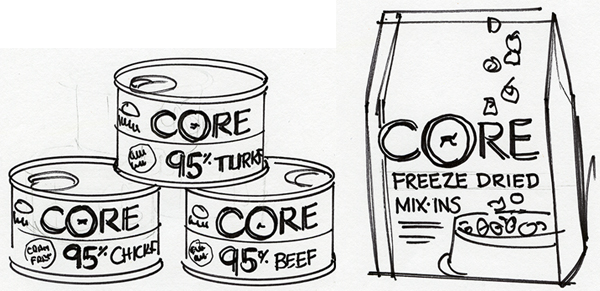 To help answer these questions and shape our new product concept, we utilize various sources of information. This includes consulting with our internal teams and external customers, conducting consumer research and analyzing industry data, to name a few.
Step 3: Formulating the Recipe: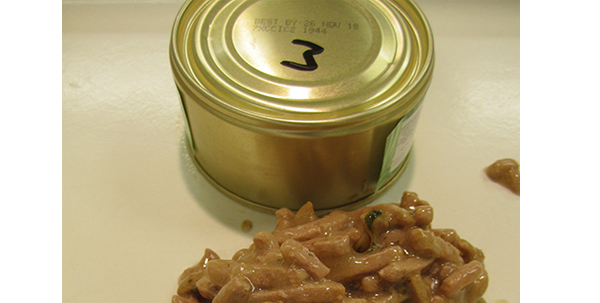 Once we have defined our vision of the new product, we then move on to recipe formulation. We work closely with our team of food scientists, nutritionists and veterinarians to ensure our desired recipe is not only delicious, but also nutritionally appropriate and beneficial for dogs or cats. Once we have worked our magic, the recipes are carefully evaluated for nutritional performance and digestibility (which is a fancy way of saying we want to make sure pets are absorbing all the great nutrients we put in the product).
Step 4: Bringing it to Life with Packaging
After the nutritional details are confirmed to be as awesome as we intended, our team works closely with designers to bring the product to life through its packaging. You might be surprised about how much time and thought goes into each element of the packaging, including the photography, words and iconography on the bag.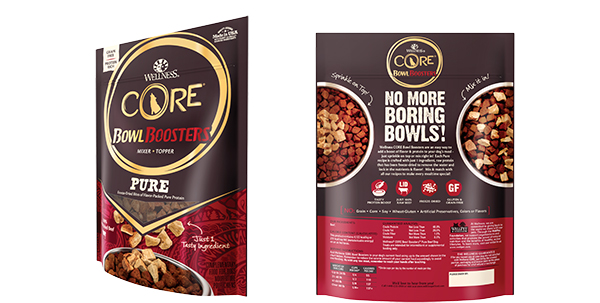 Packaging design is something we take very seriously because when you pick up the bag, we want you to be thoroughly informed about exactly what you're getting when you purchase the final product, and how the product will nourish and benefit your dog or cat.
Step 5: Recipe Production & Quality Assurance
Once all the details are finalized, the artwork is sent off to be generated into final packaging and production of the new recipe can begin! That is where our quality assurance team steps in— to ensure everything from raw ingredient sourcing to final production is held to our high quality standards. You can read more about our Quality Assurance process here.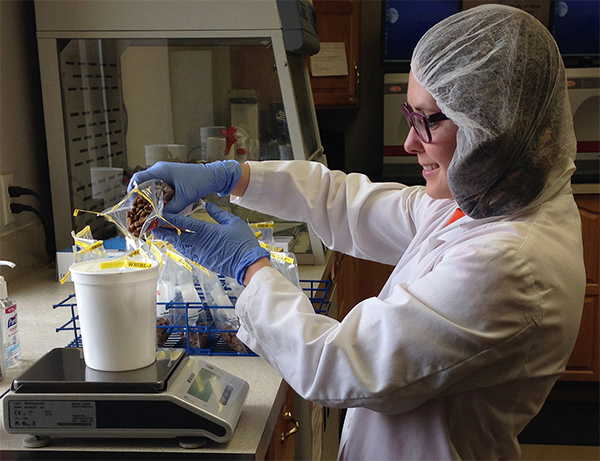 We apply this process to all of our innovations, including the newest wave of products hitting store shelves now. This includes our line of tasty, TENDER or PURE Wellness CORE toppers, Bowl Boosters, and our new CORE RawRev Puppy and Healthy Weight formulas. And for our feline friends, NEW CORE RawRev for cats and new CORE 95% protein canned recipes.  
Have you tried any new Wellness recipes lately? Let us know on Facebook, Instagram or Twitter by using the hashtags #wellnesspetfood and #wellnessCORE. We'd love to hear from you, and might even feature you on our website or social pages!