7 Pet Safety Tips for the Holidays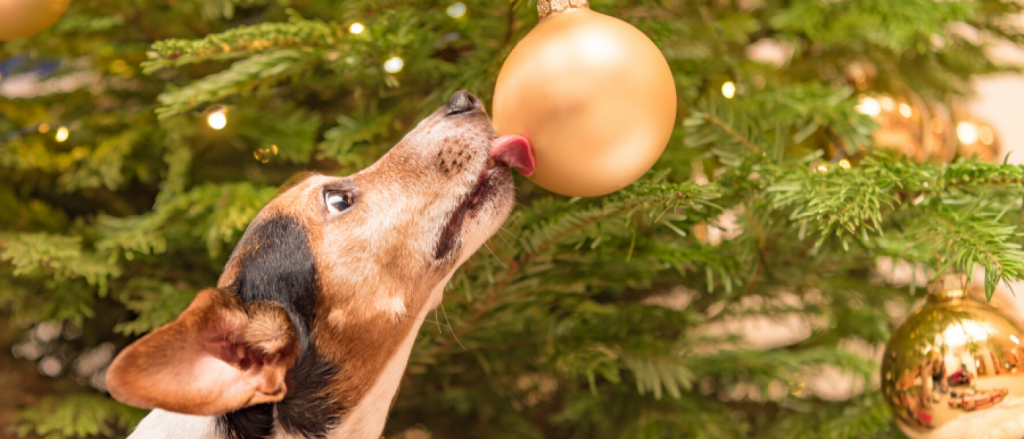 The Christmas season is the perfect time to eat, decorate, get together and be merry! Remember your furry family member as you plan your celebrations this year. While the holidays are full of cheer, they can also be full of danger for your pet. With a little bit of preparation, however, you and your pets can enjoy a healthy and happy holiday season together!
Top Holiday Safety Tips
1. Protect your tree from your pet, and your pet from your tree.
For many families, it doesn't feel like Christmas until the tree is up and the lights are lit! Pets may also be transfixed by the allure of the tree. If you're using a real tree, keep pets away from tree water – it can get stagnant and breed bacteria that's harmful to your pets. Tree needles are also a hazard – your pet may need surgery if needles are ingested. It's important to fully secure your tree so your pet can't knock it over. Consider handing lemon-scented air fresheners in your tree to deter your pet from climbing it. 
2. Deck the halls with pet-friendly décor.
Lights, ornaments, tinsel and other decorations just make everything feel very festive, but are they safe for your pets? Pups and kitties alike may chew on electrical cords. Ornaments can lead to injury if broken or consumed. Consider using battery-powered lights and candles and plastic ornaments to minimize any danger posed to your pets by your holiday décor. 
3. Reconsider decorating with plants.
Poinsettias and other holiday plants such as mistletoe, cedar, holly and pine can add a fun, festive touch to your holiday décor, but did you know that many of these plants are hazardous to your cat or dog? Do some research before bringing those plants into your home. And, as always, have a plan in place to get your pet to the vet if they accidentally ingest any poisonous plants. 
4. Make sure your pet has a place to relax.
The holidays are the perfect time to get together with your friends and family to celebrate the season. Your pet, however, may not appreciate their home being filled with extra love, laughter and cheer. If you plan on having guests over, make sure your kitty or pup has a safe place to go. Prepare a hiding place for a cat. Dogs may enjoy the safety of a kennel or crate. If your pet is especially dismayed at the presence of visitors, consider putting them away in a separate room until the excitement is over
5. Keep human food away from your pets.
Much to your pet's dismay, holiday goodies and table scraps may contain ingredients that just aren't good for them. Some ingredients such as onions, chocolate and xylitol can be toxic to animals. Keep your pet safe by making sure your Christmas cookies, candies, and other foods are out of their reach – and ask your guests to do the same. Want your pet to also enjoy some Christmas goodies? Grab them some holiday treats from Wellness Pet Food – we have fun holiday flavors such as gingerbread for dogs and turkey and cranberries for cats, so your pets can stay healthy while joining the celebration.
6. Wrap up hazards before leaving your home.
You might be tempted to leave your Christmas tree plugged in when you leave the house. After all, pulling into the driveway seeing a lit Christmas tree in the window can give you that warm and fuzzy holiday feeling. If you have pets, however, it's best to leave that tree unplugged – dogs and cats love to chew on electrical cords. Also, take out the trash before you leave so your pets can't eat any of your leftover holiday goodies. 
7. Take extra precautions when traveling.
Whether you're taking your furry family member with you or leaving him behind, it's important to ensure his safety. If you're traveling with your pet, check state and international laws to see if you're required to obtain a health certificate from your vet. Taking a car to the holiday celebration? Make sure your animal is always properly restrained in a carrier or harness. If you're thinking about boarding a plane with your canine or feline, it's important to talk to your vet for any air travel tips. Maybe you're leaving behind your four-legged friend this year – make sure they're up-to-date with vaccinations before boarding them.
Keeping your pet safe this holiday season means that you and your furry family member can enjoy a happy and healthy holiday season together. Remember to include your cat or dog in the Christmas celebrations this year! Pick up some yummy, wholesome food and treats from Wellness Pet Food. Made with natural ingredients and crafted with your pet's wellbeing at heart, our treats are the hit of every howliday gathering.