10 Ways to Feed Your Indoor Cat Right [Checklist]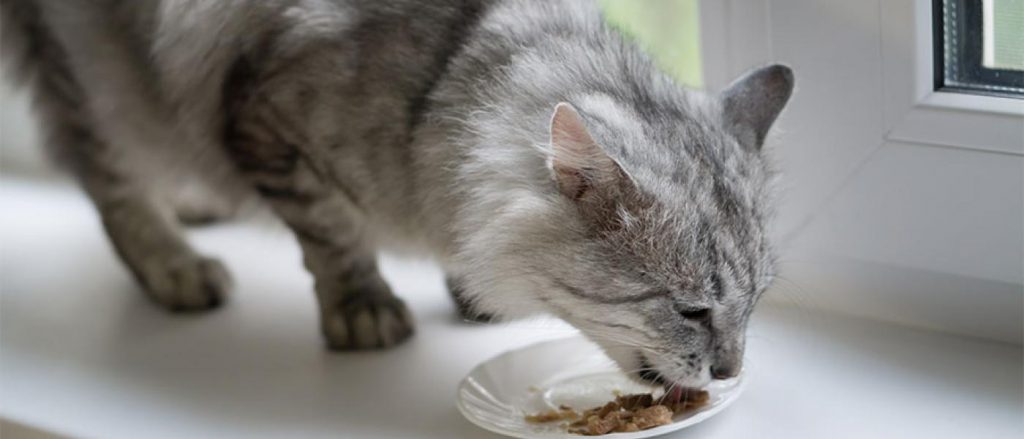 There's no question that cats that have an indoor lifestyle are much safer when protected from outdoor predators, social challenges and diseases. But they need additional mental and physical activities and the right indoor cat food diet specific to their everyday needs to ensure they don't put on weight and lead happy and healthy lives.
1. Find the Best Indoor Cat Food
Cats are carnivores. But, because they tend to be less active, the best indoor cat food will contain the following ingredients:
Very digestible high-quality protein source as the #1 ingredient.
Calorie count is lower than standard recipes for weight management.
High fiber to aid digestion, control hairballs and help manage a healthy body weight. Plus, prebiotics (chicory root) and probiotics (all the fermentation products listed on the ingredient panel) to help reduce litter box odor.
Natural proteins that have the 11 essential amino acids cats require including Taurine, a dietary essential. Taurine deficiency in cats can cause a host of issues such as blindness, cardiomyopathy and heart failure, inadequate immune response and reproductive failure. 
Rich is essential fatty acids – Omega 3 and Omega 6 keep a cat's skin and coat healthy. 
Essential vitamins and minerals such as zinc, copper, thiamine riboflavin and pyridoxine for optimum body and immune function.
2. Control Feeding for Weight Management
Cats are nibblers and love to come and go to the food bowl. But, it's important to control their daily allowance by measuring portion sizes and not free-feeding to ensure they don't overeat.
Always use a standard measuring cup.
Don't heap it – that's extra food and extra calories!
Indoor cats are less active. So, weight management is key. Overweight cats are more prone to serious health issues such as diabetes, heart disease and renal failure. Wellness CORE Indoor Deboned Chicken, Turkey and Chicken Meals recipe has 10% less calories than CORE Original recipe. It's formulated to support the needs of indoor living with less fat and high levels of Omega fatty acids to nourish skin and coat and contains natural fiber for weight management
If your cat prefers seafood flavors, try CORE Indoor: Salmon & Herring which offers guaranteed levels of glucosamine and chondroitin, omega fatty acids and probiotics, to help indoor cats thrive.
3. Address Excessive Grooming with a Diet for Hairballs
Shedding is largely influenced by the number of hours a cat is exposed to light in a day (called a photoperiod). Cats who live indoors, especially when they're in homes with both heat and air conditioning, can be in a constant state of shedding because their biological system becomes confused by temperature controls.
Cats are efficient self-groomers. But when they groom themselves, they can ingest loose hairs, which cause hairballs. These, in turn, can lead to a dangerous intestinal blockage. 
In addition, excess dead skin and hair forms knotted clumps and mats. 
A diet specially formulated for hairball control such as Wellness Hairball Control with Wholesome Grains: Chicken Meal & Rice formula offers a precise blend of natural fiber formulated to help move hair through the digestive tract plus guaranteed levels of Omega Fatty Acids from flaxseed and added vitamin E for skin and coat health.
4. Vary Dry Food Protein Options 
Chicken and turkey are considered easily digestible proteins for indoor cats.
Read labels to gauge protein amounts. Veterinarians recommend between 35%-40% protein for their daily intake.
Be sure there is always fresh water alongside the food bowl so that cats can remain properly hydrated.
Apart from those options listed under Grooming above, the Wellness lineup includes the following high-quality protein recipe options: 
Complete Health Indoor with Wholesome Grains Deboned Chicken & Chicken Meal.
This recipe contains healthy fiber and L-Carnitine to support cats with a less active lifestyle. The food also helps maintain healthy hips and joints with added glucosamine and chondroitin as well as shedding support with Omega Fatty Acids for healthy skin & coat. 
CORE RawRev Indoor + 100% Raw Turkey: This recipe has been formulated with optimal levels of fat and calories to support cats with a less-active indoor lifestyle. This high-protein, grain-free kibble is also combined with pieces of 100% freeze-dried turkey liver to provide a boost of protein, enzymes and minerals in their most natural state.
5. Add in Wet Food Options 
Wet foods offer cats much needed moisture to help remain healthy since many cats do not have a high thirst drive. Popular indoor lifestyle menu options include: 
CORE Pâté Indoor Chicken & Chicken Liver 
Formulated with lower fat levels for cats who live an indoor lifestyle. It's made with wholesome ingredients that are free from grains, carrageenan, artificial colors, flavors or preservatives to give your cat the energy it needs to thrive.
CORE Hearty Cuts Indoor Chicken & Turkey 
This recipe has thick meaty cuts of chicken and turkey in a rich, delicious gravy mixed with superfoods such as carrots and spinach. It's also lower calories to help indoor cats achieve and maintain a healthy weight.
Some veterinarians recommend a wet food diet for a cat prone to Feline Urinary Syndrome/Feline Lower Urinary Tract Disease (FUS/FLUTD) to help increase water intake and urine volume.
6. Feed A Combination Diet
Cats are often labelled finicky eaters. But in fact, they just have their favorites in terms of both taste and texture. They are also smart. So, giving them a diet of wet and dry food allows them to eat their wet food while its fresh and palatable and save the dry portion of their meals for little nibbles throughout the day.
7. Add Vertical Space for Your Indoor Cat
A tall cat condo or cat tree can greatly improve the lifestyle of an indoor cat as going vertical gives them more 'real estate'.
Vertical space gives cats a place to escape for some privacy and a quiet nap. And, climbing up and down keeps them active.
Some cat trees even have food bowl attachments for high-rise eating which means your feline has to burn some calories at meal times.
Place at a window overlooking a garden or street view to keep them engaged with outside activity.
8. Use Food Puzzles and Games
Puzzles and board games can double up as feeders and encourage cats to work for their food.
They offer mental enrichment and physical activity as cats extricate kibble from such products.
Take a portion of your cat's daily kibble allowance and allocate to placing it in such a toy.
9. Ensure Exercise for Your Indoor Cat
It's important to encourage activity by engaging your cat in games.
Teach your cat to play fetch with a small toy that she can easily pick up and carry in her mouth.
Wand toys encourage a cat to hone her hunting and pouncing skills – and they get you involved too!
Catnip toys rev up your kitty's inner lion too!
Place the food station far away from your cat's favorite snooze zone encouraging her to walk there and back for meals and daily grazing.
10. Supplement Your Indoor Cat's Diet With Greens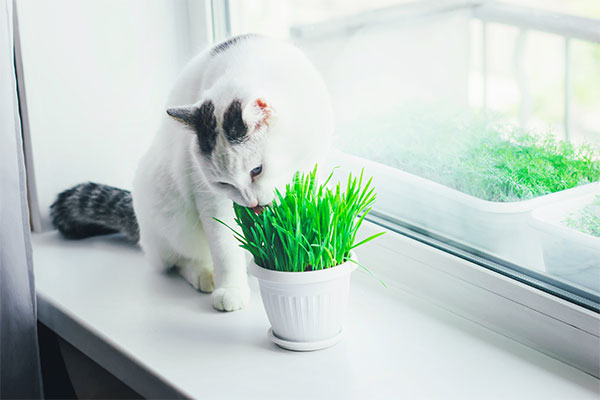 Supplement your indoor cat's diet with fresh greens.
You can purchase ready-to-eat wheat grass for your kitty.
Alternately, consider growing your own cat grass. For variety, you could grow oats, barley and rye. They are even growing kits in pet stores and online.
A fresh catnip plant will also give kitty an exciting snack to nibble on. If your cat is not used to catnip or if you have not used it before, we advise speaking with your veterinarian to be sure they are comfortable with you offering it to your cat.
Place your kitty's edible garden next to a water fountain. Flowing water encourages cats to drink and this is key to a healthy indoor lifestyle.
We'd love to see photographs of your cat and her favorite indoor menu options. Please share your photos with us by tagging #wellnesspetfood and @wellnesspetfood for a chance to be featured on our website or social pages!